Recipes
30% off these select wines and shipping included if you purchase 12+ bottles
Seared Diver Scallops
with Brown Butter, Cauliflower Purée, and Ruby Red Grapefruit
From GFV Executive Chef Peter Cham
Serves 2
6 ea u-10 diver scallops
4 oz butter
1 head cauliflower
6 oz milk
6 oz arugula
1 grapefruit
1 oz grapeseed oil (or other neutral flavored oil with high smoke point)
salt and pepper to taste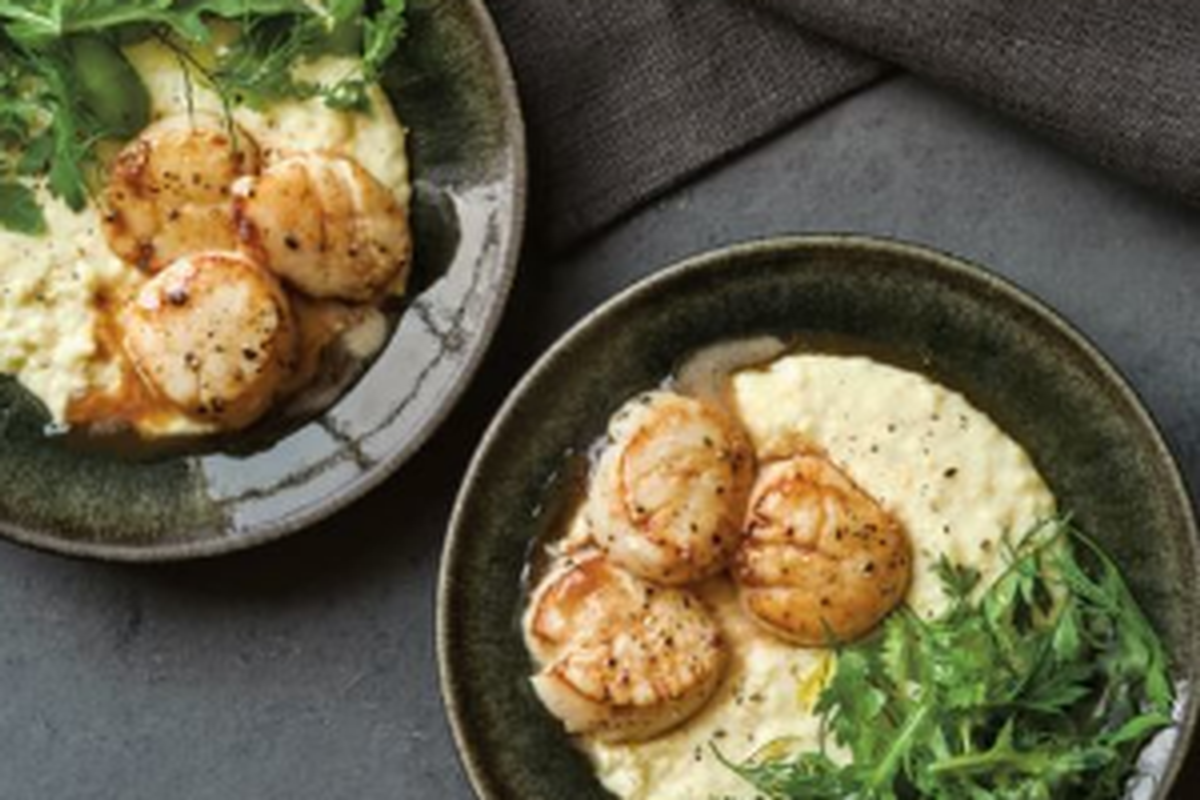 Preparation:
Make cauliflower purée:
Cut the head of cauliflower into 1" pieces
Place cauliflower into a sauce pan, cover with milk, and add salt to taste
Bring milk to a simmer with cover over sauce pan and cook cauliflower until extremely soft
Drain milk, and discard
Place cooked cauliflower in a blender and purée until extremely smooth
Set purée aside for plating of final dish; keep warm
Make brown butter:
Place 4 oz of butter into a small sauce pan or pot
Melt butter at medium-high heat and brown the milk solids that reside at the bottom of the pan
The butter should smell nutty and the color should be slightly browned
Set liquid brown butter aside for final dish; keep warm
Cut Grapefruit Segments:
Peel the skin and pith off the grapefruit making sure to remove any white of the pith as it can be bitter in flavor
Cut grapefruit into segments. Place arugula and grapefruit segments into a small mixing bowl, lightly dress with olive oil and salt & pepper to taste
Sear the Scallops:
After items are prepped, you are ready to sear the scallops
Pat the scallops dry with a paper towel while simultaneously heating a sauté pan on high heat
Place small amount of grapeseed oil in the pan and allow the oil to get very hot
Season the scallops with salt to taste and carefully place the scallops into the pan in a single layer; being sure not to crowd the pan
Let the scallops cook for 1-2 minutes without moving them to create a golden-brown crust
Flip the scallops over to finish cooking for another 1-2 minutes on the opposite side
Pull scallops out of pan and drain excess oil on a paper towel
Assemble the plate:
Spoon the warm cauliflower purée onto your plate
Place the seared scallops onto the purée
Drizzle the warm brown butter over the scallops and puree
Lightly toss the arugula and grapefruit salad and plate beside your seared scallops
Pair with: 2015 Ineseño and 2016 Viognier
Recipe Pairing: Chicken in a Pot
---
Green Goddess Dressing
From Chef Peter Cham
265 g yogurt (1 1/8 cups)

60 g basil (about 2/3 cups)
15 g tarragon (1/4 cup)
2 garlic cloves
15 g chives (1/4 cup)
75 g lemon juice (1/3 cup)
20 g fish sauce (4 teaspoons)
15 g cilantro (1/4 cup)
1 ½ teaspoons salt
450 g canola of grapeseed oil ( 2 ¼ cups)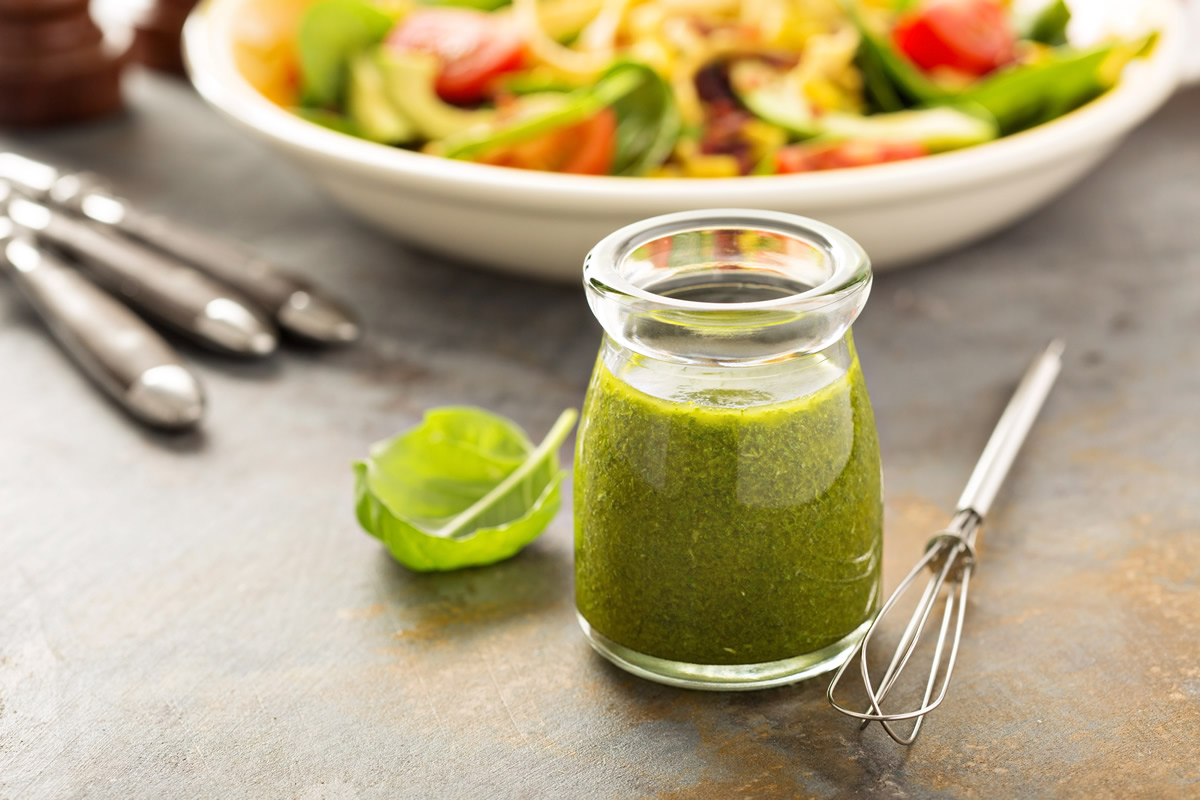 While sometimes overlooked, we find that homemade dressings and marinades can make the world of difference in a dish. Green Goddess dressing is the perfect expression of spring, fantastic not just on salads, but with spring vegetables (think squash, zucchini, green beans and sweet peas), grilled trout, roasted salmon, and more! We highly recommend using fresh versions of the below ingredients rather than dried, and you can always make a bigger batch and use it throughout the week on various items. Enjoy!
Place all ingredients, except for the oil, into a blender and blend on medium-high speed.
Slowly pour oil into the mixture with the blender running, to emulsify the dressing.
Pair with: 2022 Rosé, 2016 Viognier, and 2019 Escondrijo (especially if you're using the dressing on some grilled vegetables or fish!)
Recipe Pairing: Green Goddess Dressing
---

Red Wine Braised Sausages with Creamy Polenta and Vegetables
From GFV Winemaker Max Marshak
Serves 4
Sausage ingredients:
8 Italian sausages
2 tbsp olive oil
3 white onions, thinly sliced
1 ½ cups red wine
1 ½ cups beef broth
1 sprig fresh rosemary
¼ tsp red pepper flakes
Salt and pepper
Polenta ingredients:
6 cups water
½ tsp sea salt
2 cups polenta
4 tbsp unsalted butter
½ cup parmesan cheese, or cheese of choice, plus add'l for serving
3 tbsp olive oil
1 large yellow onion, thinly sliced
8 sweet peppers, or 1 bell pepper
3 cups baby bella mushrooms, quartered
2 tbsp fresh oregano, choppe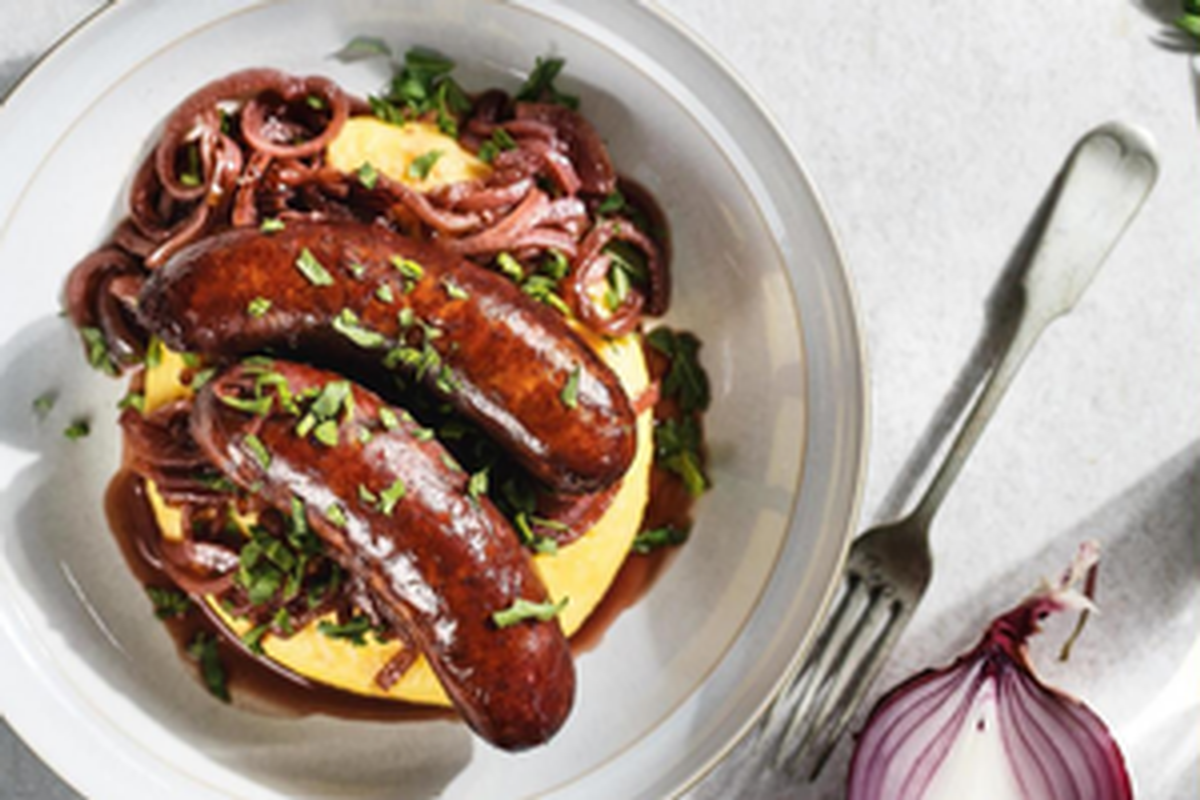 Sausage preparation:
In a large skillet over high heat, brown the sausages on all sides in the oil. Add the onions and continue cooking for 5 minutes, stirring occasionally.
Deglaze with the wine and continue cooking for 5 minutes. Turn the sausages and add the broth, rosemary and pepper flakes. Cover and let simmer for 15 minutes. Uncover and continue cooking until the sauce reduces by three-quarters and the onions are tender. Season with salt and pepper.
Polenta preparation:
Heat the olive oil over medium-high and add the onion. Sauté, stirring occasionally, until onion begins to brown on the sides, about 10 minutes. Reduce the heat to medium-low and continue cooking, stirring occasionally until onion has almost caramelized, about 20 minutes.
Add the peppers and mushrooms (increase the heat if necessary) and cook until peppers and mushrooms have softened and turn golden-brown, about 8 minutes. (Note: you can prepare the polenta while the vegetables are cooking).
Heat the water in a deep saucepan to a full boil and add the sea salt. Gradually add the polenta, stirring constantly. Add the butter and continue cooking at a simmer, stirring constantly, until polenta is thick and creamy, about 20 to 30 minutes. Taste polenta for flavor and add more sea salt and/or cheese to taste.
Serve polenta with caramelized onions, peppers, and mushrooms on top, along with a sprinkle of parmesan cheese and chopped oregano. Top with the sausages and any additional garnish, and serve.
Pair with: 2018 Barbareño, 2019 Escondrijo and 2019 Petite Sirah
Recipe Pairing: Mediterranean Grilled Lamb Chops