September 13, 2016 | Callie Gleason
Harvest Q&A with the Winemaker Team
I awoke at around 11:30pm the other night in the vineyard barn sure that I'd heard some kind of commotion downstairs. I strained to listen and identify the noise, thinking of what I could take downstairs to defend myself with (if I were ever so bold to go investigate). After a few minutes and one particularly loud shuffle, I finally nudged my boyfriend and said "Did you hear that?!" expecting he would grab something heavy and come to my rescue. Instead, he turned over and (clearly frustrated with me) said, "Yea, they've been down there for the past hour driving the quads back and forth, you didn't notice?"
I've never been accused of being a light sleeper, and turns out – that's a good thing now that harvest season is upon us! Because at Refugio Ranch, our team picks all our grapes by hand, harvest happens in the wee hours, either late at night near midnight or super early in the morning, around 4am. It's pretty amazing to watch, and as my parents learned early on, unless you have lots of practice, you're better off getting the coffee and doughnuts than trying to pick the grapes.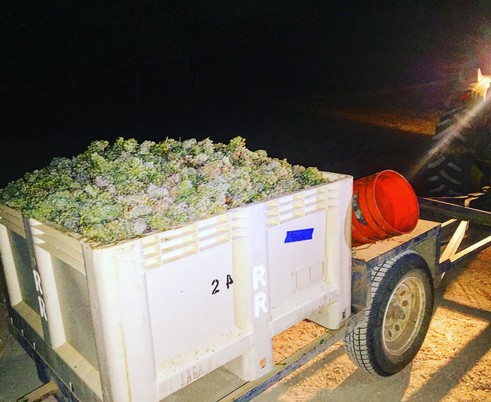 This time of year is very exciting (and busy!), and we decided that before things get too crazy hectic, we'd check in with our winemaker Ryan Deovlet, and his assistant Grace Kegel, to get the inside scoop and a first look at what to expect out of the 2016 vintage.
As harvest was approaching, what was on your mind most?
Ryan: It's important to have a game plan for each block and varietal hanging out there. Then once the parameters line up for a picking decision, there's undivided attention and focus on each fermentation. Like chefs working in the kitchen, having everything 'mise en place' makes executing the dish that much more efficient.
Grace: We're in the vineyard a lot leading up to harvest, so it's fun to watch the development of the fruit in the few weeks and days leading up to a pick. Of course, it's important to be prepared in the cellar so most of my thoughts are focused on the logistics and flow of the winery when fruit arrives.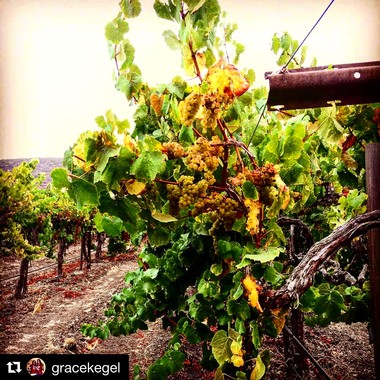 What's different about 2016 harvest from last year and/or previous harvests?
Ryan: This winter, we fortunately received more rainfall compared to the last few harvests and this pushed back bud break a bit. This vintage has slightly more fruit than 2015 and a much more even fruit set.
Grace: This year is unique and different for me because this will be my second harvest in 2016. Coming off of a vintage in South Africa, this harvest feels like it came sooner than the rest. But, my experience and time spent in South Africa was exciting and inspiring, and I couldn't be more excited to see what our CA Harvest 2016 has in store.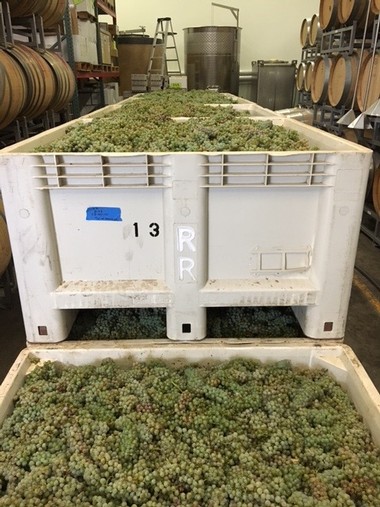 What should our wine club be most looking forward to out of our 2016 line up?
Ryan: I think we're seeing better physiological ripeness and flavor development at lower sugars as the vineyard matures. Hard to pick out any one wine over another in the RR lineup, but we're certainly making better decisions both in the vineyard and in the cellar having some historical vintages to lean on for reference.
Grace: I think we'll see really great flavor development in the fruit and in turn, the wines will show a lot of depth and concentration throughout maturation. Also, with the addition of more concrete tanks this year, we'll have some fun blending trials down the road.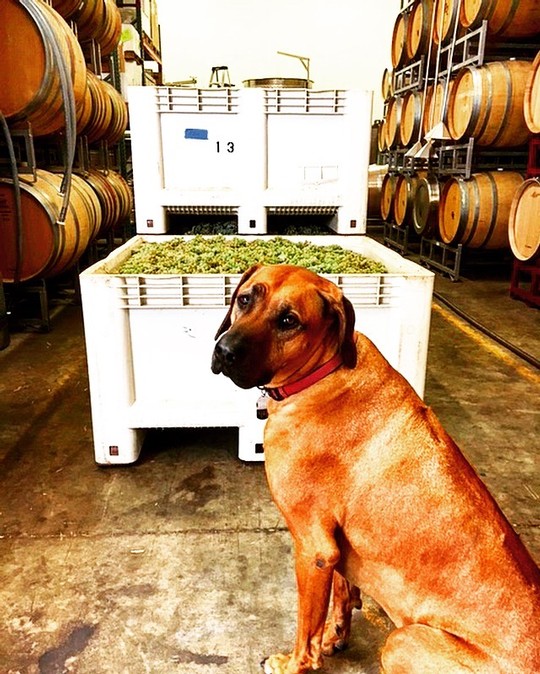 Bruce Wayne, Ryan's Rhodesian Ridgeback, stands watch over the Sauvignon Blanc
What's your harvest song or soundtrack? What gets you through the day when you're tired or stressed?
Ryan: I'm in to bands more than any one particular song...The Band, The Dead, The Stones, The Who...I tell you what, one part of the day during crush that I really look forward to is when I sit down with the team and reflect on the day with a great sense of accomplishment and then prepare for the next few days. Harvest goes so quickly, communication is key, and I really take pride when we're working all as one.
Grace: There are so many! Depending on the day, the weather, the grapes. We listen to a lot of classic rock and blues, and mix-in some newer artists/bands. Press and equipment cleaning necessitates something that can be cranked up loud!! :)
Comments
Commenting has been turned off.