2012 Escondrijo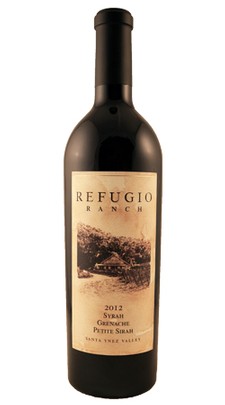 90 points - Vinous - Antonio Galloni
90 points / Gold Medal - 2015 San Francisco International Wine Competition
Silver Medal Winner - 2015 San Francisco Chronicle Wine Competition
90 points - Beverage Tasting Institute
89 points - Wine Enthusiast
A luscious blend of 53% Syrah, 34% Grenache and 13% Petite Sirah, our Escondrijo (Spanish for "hideaway"), was aged 18 months in French oak barrels, 20% of which were new.
This wine is a gorgeous dark violet in color, bursts from the glass with an exuberant nose of dried cherry, raspberry liqueur, rose petal, saddle leather, and sun-warmed ripe blackberries. The beautifully structured palate offers boysenberry, fresh-cracked black pepper, strawberry compote, graham crackers, candied orange peel, and an intriguing hint of sage and fennel, before segueing into a very long and compelling finish.
Technical Information:
Soil Types: Linne Clay Loam - this whitish gray soil contains limestone pieces beginning 18"-24" below the surface. The presence of limestone captures and preserves the freshness in this wine, and being a heavier soil lends itself to a rounder mouthfeel.
Santa Lucia Clay Loam - This soil lends itself to brighter, floral aromatics and lower pH. Being a heavier soil it also lends itself to a rounder mouthfeel.
Harvest Dates: October 8th - November 8th
pH: 3.77
Bottled: April 29th, 2014
Cases Produced: 488