2015 Ineseño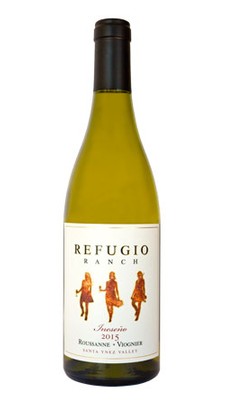 92 points - Vinous
Our Ineseño (the name refers to people native to Santa Ynez) is a blend of 63% roussanne and 37% viognier. The wine offers a quintessential rhone-white complexity that's hard to resist. The nose entices with aromas of nectarine, anise, lychee and honeysuckle, while the palate displays an intriguing salinity next to the broad, dry flavors of pineapple and white flowers. Subtle notes of graham and hazelnut emerge from the use of ~30% new French oak. Fermented in a combination of stainless steel and large format (400L) barrels, and aged for 10 months before light filtration and bottling.
* The three whimsical figures on the Ineseño label are the Gleason women - Niki flanked by her daughters, Callie and Mara, as they stroll through the vineyard.
Technical Information:
Soil Types:
Linne Clay Loam - this whitish gray soil contains limestone pieces beginning 18"-24" below the surface. The presence of limestone captures and preserves the freshness in this wine, and being a heavier soil lends itself to a rounder mouthfeel.
Mocho Loam - this sandy, alluvial soil is fine-grained, fertile and deposited by water flowing from the Santa Ynez River. Due to their sandy nature, there is little water retention in these soils which creates higher aromatics and density in the fruit.
Harvest Dates: Multiple passes between August 18th - September 2nd
Alcohol: 14.6%
pH: 3.71
TA: 5.4 g/L
Bottled: June 6th, 2016
Cases Produced: 164