2022 Harvest U-Pick - General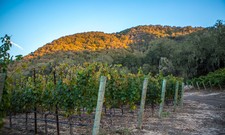 Five years strong! We are inviting our wine club members to come harvest with us! For those of you who'd like to get your hands dirty, break a little sweat, and really feel where Refugio Ranch wine comes from, join us! After about an hour of harvesting we will head to the barn a delicious brunch from local favorite High on the Hog Catering and of course some fantastic Refugio wines.

September 10, 9am-12pm
Refugio Ranch Vineyards, Santa Ynez
$35 for wine club members (limit 2 per membership) / $45 for non-members
Note that space is limited due to harvesting activity.
You may attend the brunch only if you prefer, just email us! (Ticket prices are the same).

Brunch Menu
- House Cured Rosemary Ham, Egg, and Cheddar Sliders -

- Sunrise organic Farms Veggie Quiche -

- Carmalized Onion and Cauliflower Tart w/ Brie, Truffle, and Chives -

- Tutti Frutti Heirloom Tomato and Melon Salad w/ Pickled Shallots, Arugula, Herbs, French Feta -

- Za'atar Roasted Carrot Salad w/ Lemon Hummus, House Spice Blend, Parsley -

- Apple Snacking Cake w/ Granny Smith Apples, Cinnamon, Brown Sugar -

- Raspberry Almond Scones w/ Whipped House Cultured Yogurt -