2023 Hoedown at Roblar Farm - Member Ticket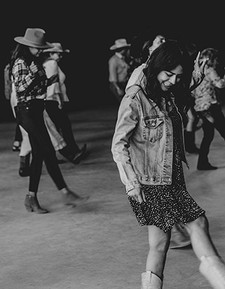 Wear your dancin' shoes and bring your cowboy hat for the
Third Annual Hoedown at Roblar Farm - yeehaw!!

We'll enjoy a delicious BBQ-style meal alongside fantastic wine selections, followed by live music from Teddy Spanke & the Tex Pistols, along with Country 2 step and line dancing instruction from local instructor Vanessa Robertson.

Saturday, August 26th, 5:30-9:30 pm at Roblar Farm

Ticket includes full meal, live entertainment and dance instruction, and one glass of wine. Additional wine available for purchase.
MENU

COLD BUFFET

Bread Rolls & Butter

Roblar Farm Lettuces
Sun gold tomatoes, shaved radish,
persian cucumber, buttermilk ranch dressing

Green Bean Salad
Red onion, chick peas, kidney beans,
roasted shallot vinaigrette

Apple & Cabbage Slaw
Currants, sunflower seeds, garden herbs,
poppy seed dressing


HOT BUFFET

Charred Summer Corn
Smoked paprika butter and lemon

Roasted Seasonal Farm Veggies
Olive oil, smoked sea salt, roasted garlic, garden herbs

Santa Maria Style Tri-Tip & Half Chickens
Grilled over red oak, served with
fire roasted salsa & chimichurri


DESSERT DISPLAY

Strawberry & Cream Parfaits
Lemon & vanilla chantilly,
lemon verbena syrup, oat streusel