2023 Winemaker Dinner - Member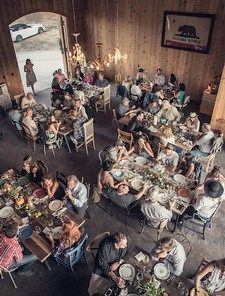 Once a year we invite our most beloved RR supporters out to the ranch for an unparalleled culinary experience. We will enjoy cocktail-hour and canapes at the Upper Pond, set to the backdrop of sweeping vistas of the Santa Ynez Valley. Afterward we will mosey down to the barn to enjoy an exquisite three-course dinner created by our longtime friend and collaborator, Chef Jake O. Francis.
You will hear the story of Refugio Ranch from vintner and proprietor, Kevin Gleason, as well as learn about our terroir-driven winemaking methods from Head Winemaker, Max Marshak. This is an exclusive and once-a-year event. As an honored Refugio Ranch member, we invite you to join us.
M E N U
{ cocktail hour at the pond }
Spinach + Artichoke "Dip"
Parmesan, Mozzarella, Chive, Crostini
Shrimp Cocktail
Wild Red Shrimp, House Cocktail Sauce, Cucumber Cup
Lamb Chop Lollipop
Dijon, Preserved Lemon, Panko
Grazing Table
Pt. Reyes Blue, Aged Manchego, Double-Cream Brie Spanish Chorizo, Smoked Prosciutto, Fresh Grapes + Pear, Fig Jam, Apricot Mustard, Pistachios, Cornichons, Finley Farms Vegetable Crudité, Roasted Beet Hummus, Assorted Crackers + Crostini
{ dinner in the barn }
{ salad course }
Classic Un-Wedged Wedge Salad
Little Gems Lettuce, Tarragon-Buttermilk Ranch, Heirloom Tomato, C-P Bacon, Point Reyes Blue Cheese, Pickled Red Onion, Fried Shallots
{ family-style feast }
Rotisserie Wood-Fired Bone-In Ribeye
Horseradish Crema
Cedar-Plank King Salmon
Shaved Fennel, Chili Crisp
Hasselback Yukon Gold Potatoes
Fried Rosemary, Garlic Olive Oil
Caulifower Gratin
Gruyère, Aged Cheddar, Béchamel, Chive, Crispy Bread Crumbs
Roasted Cremini Mushrooms
Red Pearl Onions, Lemon Thyme, Pickled Fresno Peppers, Truffe Butter, Charred Lemon
{ dessert }
Salted Caramel Chocolate Tart Whipped Cream