6-pack Summer in a Bottle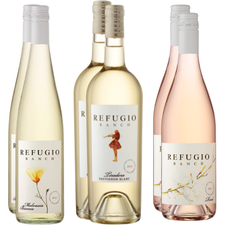 2021 Malvasia Bianca
This Malvasia is bright and white. The first aromatics are very mineral and focused. A veil of freshly baked bread and peach jam invite one into the glass. After a swirl, the wine reveals fresh white peach, honeysuckle, jasmine, and lemon peel. The palate is fresh, with softened edges; iced green tea with honey, Asian pear, green melon, and lime. It finishes with a wonderful lift of chalky texture and persistent kiwi-like acidity.
2021 Sauvignon Blanc Tiradora
Classic Santa Ynez Valley Sauvignon Blanc (80%) with a dollop of Semillon (20%), this wine jumps from the glass aromatically offering white grapefruit, Bosc pear, lychee, citrus blossom, kefir lime leaf, white pepper, lemon grass, and ginger. The palate has tension and cut with some richness from the addition of Semillon, with stunning balance throughout.
2021 Rosé
This is a rosé of great class and focus. Everything about this wine is expressive and neatly in its place. The aromas are delicate and pure, projecting white peach, melon, ruby-red grapefruit, Meyer lemon peel, and jasmine. The palate is alive and plush, balancing sweetness and roundness with vigor and clarity. Rainier cherries, green apple, rosehip, and strawberry, fashion a wine of tremendous pleasure and style. It is the perfect ambassador for spring at Refugio Ranch, calling in the levity and freshness that we look for in every new vintage.